Spicy Sweet Potato Peanut Soup
This is a recipe that my mother and I first found online when we were looking for a variation on an African peanut soup that involved sweet potatoes. Since then I've taken it and expanded it quite a lot. It has lots of places for changes to suit your tastes.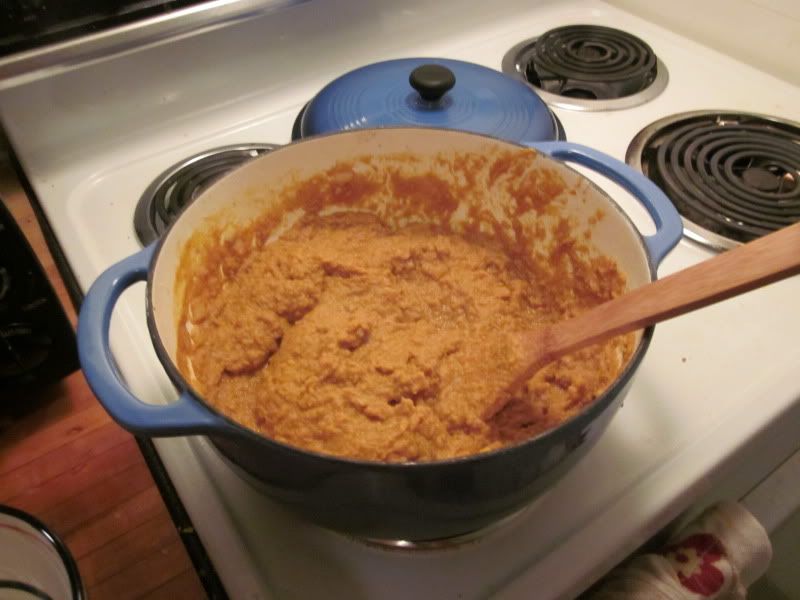 Spicy Sweet Potato-Peanut Soup
Ingredients
-1 to 3 pounds of sweet potatoes
-A can of pumpkin-Not pie mix just canned pumpkin
-An onion-I prefer red onions but any kind will work.
-Broth-I use chicken or vegetable
-Peanut butter-about half a cup, be generous, more won't hurt it
-Minced garlic and/or ginger I use one of those combinations you can buy at Indian grocery stores-fresh would be amazing
-Various spices-ginger, cinnamon, salt, paprika and whatever you like
-Peanut satay sauce-optional but I find it adds a pleasant bite
Peel and chop the sweet potatoes, boil them and mash them, how smooth they are is up to you. I tend to like having some texture in them. Mince the onion to a fairly small size, I prefer this soup to be fairly chunky so my onion pieces aren't tiny.
In a good heavy pot saute the onions, garlic and ginger then add in the peanut butter and satay sauce. This is crucial because you want to melt the peanut butter in that high heat so that it easily melds with everything else. If you add the peanut butter later, it tends to clump and not mix in as much.
Then add the sweet potatoes and pumpkin, also I recommend constantly adding broth to the soup since it helps to keep things from burning and makes it smoother. Also if you had more broth, it will become more soupy. Once you have all of the basics in, this is where I add the spices and can add whatever you'd like to make it match your own tastes. I find it needs a heavy hand with the spices as the potatoes and the pumpkin absorb a lot of flavor. Its a very rich soup and makes wonderful leftovers.